Friday's Big Score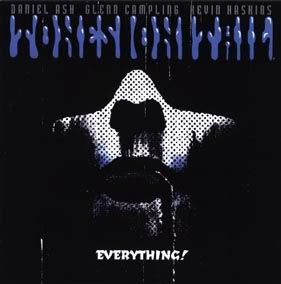 Recycled CDs, a little slice of heaven in Gainesville GA. It looks like someone else was partying like it was 1985. And now it is my turn to crank up "Go" and dance around like Joan Cusack in "Sixteen Candles" This CD has everything Tones on Tail recorded, which wasn't much really, and some nifty liner notes.
I also found a used copy of the PowerPuff Girls DVD called "Meet The Beat Alls". This is the funniest parody of the Beatles since the Rutles (And I think there were a couple of these). Small Child loves the PowerPuff Girls, It is really for her I keep telling myself. My favorite part of this "Behind The Music" style episode is the introduction of Moko Jono, the girlfriend that fans blame for breaking up the band. This cartoon monkey screeches just like her real life counterpart Yoko Ono. Everyone who has heard the Plastic Ono Band live record knows exactly what I'm talking about. Funny stuff, indeed.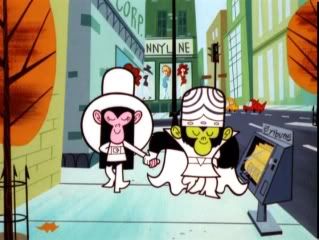 Poor Yoko gets a lot of grief from comics, critics, and bastards like myself for that album but she was a groundbreaking artist in the early sixties and brought avant garde art to a much wider audience -for better or worse. You will not find many artists as brave as Yoko and I have a lot of respect for her... But Damn, Moko Jono is one funny screeching cartoon monkey!
On a semi-related note, I have to wonder what John Lennon would think of George W Bush's cover of "Imagine" mentioned in the previous post.